A leading clinical research organization located in Berlin, New Jersey contacted Xtel looking for a brand new PBX system.
The client had been sharing a Panasonic PBX system that they did not own, and therefore had little to no control over.  In addition, the system was not useful for call center application.  They needed a system that could handle their call center as well as being portable and scalable.
After installing an Xtel Hosted PBX system using Polycom 311 and 411 phones, the client now has call center features including agent state, agent disposition codes, monitoring/whisper/barge-in, and detailed reporting.  In addition, the client was opening a new location and needed a setup that could integrate both sites into one system.  Xtel deployed 100M of internet access to support the data and voice requirements in their new Marlton, NJ location.
Polycom 411 Business Media Phone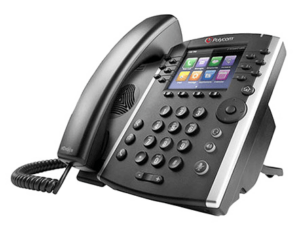 The installation was standard with few challenges, Xtel's system solved all of the customers issues, and the service was delivered in a professional and timely fashion.